Another week of 100 word song and the writing increases in quality. There were so many good entries. Poems, songs, and some terrific fiction. One of the best was from my friend Michael Webb aka @spudrph from http://innocentsaccidentshints.blogspot.com/2012/02/100-word-song-im-leaving.html I'm Leaving conveyed so much. Mostly, that miscommunication can kill a relationship. The couple in his short story lost their light. The results were life changing. So, Michael got to pick this week's song. He and I share a love of my hometown band, Atlanta's The Black Crowes. One of their best songs is called Hotel Illness. It's a great choice for 100 word song. The rules are almost non-existent. You give me 100 words inspired by this week's choice of tune. Keep it at an even 100 and get it in by Tuesday, 7pm, February 21st. Here's my 100….it's a continuation of my widowed father story. While he and his teenage daughter are walking to get gas, he remembers first meeting her mom.
"I want you to get me high."
He laughed through mouthing the word "no".
"We're in paradise, thousands of miles from home. We've told each other our life stories. You've done drugs. I haven't. "
This blonde-haired, blue-eyed woman, layed out in a blue bikini on his hotel room balcony, was asking someone she'd known for two days to procure drugs in a foreign country.
"Where in Cancun should I find your poison?"
She sat up. Sun-baked tresses danced on her tanned shoulders.
"There's a band staying here. The drummer hit on me when I checked in. Trust me, he's holding."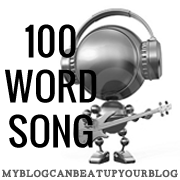 <div align="center"><a href="http://lancemyblogcanbeatupyourblog.wordpress.com&#8221; title="My Blog Can Beat Up Your Blog"><img src="http://i1091.photobucket.com/albums/i398/geniegirlgraphics/Robot-Badge.png&#8221; alt="My Blog Can Beat Up Your Blog" style="border:none;" /></a></div>
Leeroy approves, here's my Atlanta rock and roll brothers, The Black Crowes, with Hotel Illness