Last week was long, emotional, sad, exhausting and life changing. My dear friend, the blogger I've known among our 100 word song club the longest, Tara R., stepped in to guest post for me while I was at the hospital with my family. Her choice of Ashley Monroe's Satisfied brought out some very fun posts. Some went the "what the hell is country music doing on Lance's blog" route, others bared their soul. Tara herself had a terrific post. But the one that I just couldn't get out of my head was from my poetess pal from Nova Scotia, Tasha, called To Think http://thebleedingpen.wordpress.com/2012/03/19/100-word-song-challenge-to-think/ She and I share a love of the band Social Distortion. An hour after I read it, I hit the gym, ran across a young fellow half my age, and accidentally introduced him to that band on my iPod. I knew I had to share Tasha's post. She chose, Sick Girl by Social D, calling it a theme song. So congratulate, comment, and commiserate with our Canadian, dirty rock and roll admiring pal, Tasha and get her new book Nothing Left To Lose: http://www.amazon.com/gp/product/0985154810/ref=as_li_ss_sm_fb_us_asin_tl?ie=UTF8&tag=hydfbook0e-20&linkCode=shr&camp=213733&creative=399837&creativeASIN=0985154810&ref_=zg_bsnr_10248_91&smid=157501&ascsubtag=US-DS-19833-157501
Here's my 100.
Last time with Helene Troy: http://lancemyblogcanbeatupyourblog.wordpress.com/2012/03/16/dancing-barefoot/ 
The applause was fierce and deafening. Helene closed her eyes to escape intense flares of stage lights and the brutal ringing in her ears. A memory streaked through her mind.
"Helene, your sister's a sick girl. The tattoos, the men, the drinking; let it all be a warning to you."
She opened her eyes to stop the thought. Revisiting her mother's voice made her dizzy. She stumbled down the riser. Case Hill caught her left arm and yelled .
"Leney, that was epic! You're getting drunk for free tonight! Hell, you should get some new ink to remember this shit!"
This is not only my 100 word song but also a new story episode of The Ballad of Helene Troy. You can find the rest of the story, so far, here: http://lancemyblogcanbeatupyourblog.wordpress.com/the-ballad-of-helene-troy/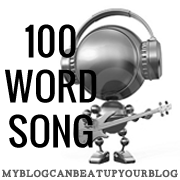 Today's is from Tasha, and it's one of my favorites too. Leeroy is very pleased. Give me 100 words for Social Distortion's epic, flithy guitar song, Sick Girl.