Thank you for the terrific entries for the Afghan Whigs' Debonair. It's one of my favorite songs and since I'm giving you all a serialized story, it was great to see fresh interpretations. I loved both Rene and Renee's posts. I wish they'd get together on the extra E issue but until then, Leeroy looked past it and asked Rene, from Not The Rockefellers http://nottherockefellers.blogspot.com/  , to pick this week's tune.
Three weeks ago, I bragged on Tame Impala's Pink Floydesque 2012 record, Lonerism, in my top 12 albums of 2012. When Rene told Leeroy she wanted the disc's best song, Feels Like We Only Go Backwards, I got very excited. This song is wide open for interpretation and it is also off the charts artistic.
For my 100, here's more Soul To Body where we go back to Jake's house where stuff's about to go down.
His back pressed against the white crown molding of the kitchen's entrance, Jake looked away from Mallory and closed his eyes.
"You have another girlfriend?"
Camille's blue eyes burned at a medium-built redhead picking up a guitar case from the kitchen's hardwood floor. Sweat beaded Jake's forehead.
"You're overreacting, Camille. She's a friend borrowing a guitar. I forgot to tell…."
Camille pulled her curly dirty blonde hair into a pony-tail and shouted at the other woman.
"Did he tell you we're together?"
Jake opened his eyes and saw Mallory extending her hand toward Augusta.
"Hey, you must be Jake's sister-in-law."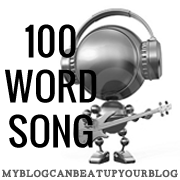 As always, you have one week from now to write 100 words inspired by Tame Impala's Feel Like Only Go Backwards. Please tell a friend or fifty. Link your 100 to the Mr. Linky below then uses the Twitter, the Book o Face, and any other method of attention ho'in to tell people. I look forward yo your entries.