Since some of you don't read the medias that are social like The Twitter or the Book with all the Faces, you may not know of the sad news. My time with www.sprocketink.com is over. It will cease to exist as an internet thing this week due to something called real life. It was a huge operation and needed more resources that my boss, the great Nichole aka @michonblog, had available. We worked very hard to write lively, fun, funny, interesting, debatable, and entertaining pieces. It was my other outlet, besides this place, to express my political and pop culture thoughts. So, if you know any online journalistic places looking for a lefty Christian who can rhyme Cruzers with losers, like, hey y'all, I'm available.
I will miss working with Andrea Anthony aka @andygirl, Tracey aka @crazyasnormal, Brahm aka @alfredliveshere, Kath aka @katstheory, Vinny aka @asvinnycsit, angie aka @angieuncovered, sarah aka @ssfrigerio, Jessie aka @jesterqueen, Bre'onna aka @brewrites, Damon aka @Six_FM, Natalie aka @singingfool1224, Linda aka @modmomelleroy, and a few others whose handles I don't have handy. Please track there people down through the Twitter, their blogs, and the book of face. They're brilliant, somewhat insane, and my dear friends.
Today's 100 word song comes from my writing partner and good friend Tara aka @Tara_R from www.thinspiralnotebook. She writes everyday, very well, and so you should have her stuff in your head all the time. She chose Citizen Cope's Penitentiary from The Clarence Greenwood Recordings of 2004. It's an excellent CD. Please go see her and listen to Citizen Cope.
For my 100 we go back Silas and Olive in Zola's basement in Florida about to get hiiiiiiiiiigh and forget what they did in Atlanta. My 100 is also tied to www.velvetverbosity.com 's "invincible".
Last time: http://lancemyblogcanbeatupyourblog.wordpress.com/2013/10/21/piece-of-me/
"We need to talk, Olive. Alone."
Silas hadn't stood up to her in several days. The invincible look in his eyes signaled her to wave away Zola.
The basement door was left open. A stereo was turned up. The music was soulful, bluesy and loud.
Silas drank from Olive's rum and coke then said.
"We're never going to get away with what we did in Atlanta."
Olive swigged then put the tumbler on the concrete floor. She removed her t-shirt and pulled Silas' over his head.
"Live in a penitentiary of guilt all you want, baby. But I'm totally free."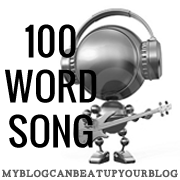 http://lancemyblogcanbeatupyourblog.wordpress.com/wp-admin/post.php?post=2757&action=edit&message
As always you have 7 days from NOW, to write 100 words only inspired by Citizen Cope's Penitentiary. Tell a friend or 50. Use Mr. Linky.