Welcome back from the Holidays. For those of you who are Americans or whatever that celebrated food gluttony and family moments, awkward and sweet, I hope you had a great week. Leeroy wanted an oil change and new batteries so we took the week off but come back with an excellent song choice from one of 100 word song's finest writers, the dedicated and talented Melissa aka @realgirlmelissa http://melstepp01.wordpress.com/ . Like me, she has a continuing horror thriller type storyline that is a must read. Check her out.
For my 100 we go back to Silas and Olive arriving in Tampa at the strip club where she's interviewing for a waitress job and then they'll make their first drug delivery.
Last time: http://lancemyblogcanbeatupyourblog.wordpress.com/2013/12/02/tush/
A gaudy color scheme of purple, yellow, and green announced The Jade Gentlemen's Club. Silas' stomach knotted as he parked the car. Two large men in purple t-shirts bearing the club's insignia crossed their arms and stared as Silas peered with apprehension.
"We've burned a lot of miles the last 24 hours, Liv. Shouldn't you sleep on this?"
Olive didn't answer. He turned and saw the determined look on her face as she checked her vixen image in the mirror. She looked like a different person but her words soothed him, some.
"Don't worry honey, I'll always come back to you."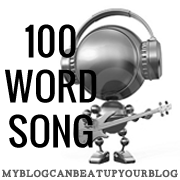 http://lancemyblogcanbeatupyourblog.wordpress.com/wp-admin/post.php?post=2757&action=edit&message
As always, you have 7 days from right now to write 100 words inspired by Screaming Trees Nearly Lost You. Use Mr. Linky to post your reply then the medias that social to tell a friend or 50. Let's recruit some wordsmiths.
Stuff your stockings with my books:
The Ballad of Helene Troy, an underdog story about a female musician in New York City, and Soul To Body, about an ex-1990s guitar player trying to raise his teenage daughter after the death of his wife, her mother, are available, digitally, on Amazon.com for your kindles, and in paperback from Lulu.com