It's BlogHer week so Leeroy and I tried to reach out to someone we not only think a lot of  but also isn't attending so they'd be available to write. Carrie http://museunleashed.com/ is one of my favorites. She writes a brilliant science fiction romance story with her great character Rachel. She also has a very eclectic taste in music, Last time Leeroy got to her, she picked the Lego movie tune. This time she chose American Authors The Best Day Of Our Lives. I sing along with this in the car with my daughters.
My 100 is not only a new episode of Silas and Olive but also hooked up to my friend Velvet at http://www.velvetverbosity.com and her one word prompt "faded" http://www.velvetverbosity.com/ .
Here's my 100.
Silas looked past Olive's smile, staring at the sun crashing in as dusk pushed through. She leaned in for a kiss. He jumped away, hand in the air like he was trying to grab the dropping sun.
"What's the matter?"
Silas didn't answer. He walked to the Cutlass' driver side motioning Zola to the back seat and barked.
"Everyone get in the car, we're never coming back here."
The good memories Silas had of Olive were faded. Olive spoke to Zola.
"Did y'all have a good day?"
Zola answered in a mysterious, flat tone.
"The best day of our lives."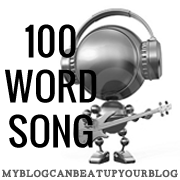 As always, you have 7 days from NOW, to write 100 words inspired by American Authors The Best Day Of My Life. Go see Carrie and Velvet. Use the media that are social to advertise your 100 word magic and pink it up to the green Mr. Linky button below. Wish me luck at blogher, I'll be one of 4 dudes there.