My wife aka The Bobina wrote this week for Donetta's great pick of The Beatles, "Don't Let Me Down" http://mythoughtsonthesubjectareasfollows.wordpress.com/ . It was about me, both the good and the bad, so I had to ask her to choose today's song. I'm on some new pills that I'll write about at a later date so I lost track of my days and times.  Remember, you're hanging out with a crazy person. I also put out on the Twitter to the rest of you for song suggestions. Tar Rah aka @Tara_R said "And She Was" by Talking Heads. That will be later today's 333 word piece for Trifecta Writing, also a new Soul To Body story episode. The rest of you that suggested songs will be providing the soundtrack for the next few posts. Thank you. Back to Bobina's selection and to Jake, Violet and Mallory on the Hannas' front porch with a new Soul To Body for Bobina's pick, Tightrope, the quirky pop song from Janelle Monae.
Last time: http://lancemyblogcanbeatupyourblog.wordpress.com/2013/06/13/100-word-song-dont-let-me-down/
Violet's angry voice took over the porch.
"Dad, Gus texted she's on her way with the whole story about how Mallory tried to break up some guy's marriage because he was in an band she liked from the 90s. Sound familiar?"
Jake knew he should correct his insolent daughter but her word spew about behavioral patterns were identical to what his late wife's lectures.
"Vi, get back in the house! Let Mallory tell me her story! Gossip is a tightrope walk without a net."
Jake looked past a tearful Mallory and saw his sister-in-law's black car arrive in the driveway.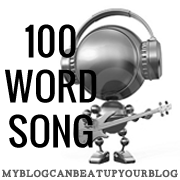 You have seven days from now to write 100 words inspired by Janelle Monae's Tightrope chosen by Deana aka The Bobina. Be sure to text, tweet, book o face, google +, pony express, morse code, smoke signal, carrier pigeon and scream you post to as many people as possible. Let's get double digit posts this week. Use Mr. Linky to show your write-up.