You know what I like the most your 100 word song players and readers? You're thinkers. Last episode of my short story, Light of Day, was playing off the word "grace" from Trifecta Writing Challenge, so Donetta aka @donettasifford requested Graceless by The National. See what she did there? My characters Silas and Olive are a couple of not so good ole redneck 19-year-olds from Georgia on the run in Florida and about as graceless as can be. Also, The National's new album Trouble Will Find Me is probably the best new music to arrive on the scene in a long time. Get it. Graceless is probably the second or third best song off of it (love "Demons") and The National deserves to be famous and wealthy rock stars, I guess.
For my 100 we go back to Silas and Olive leaning against the cherry red cutlass waiting to see if the policeman figures out they're up to no good at 5 o'clock in the morning. This is also for my friend @velvetverbosity 's http://www.velvetverbosity.com/ 100 words prompt "road"
Last time: http://lancemyblogcanbeatupyourblog.wordpress.com/2013/09/03/so-alive/
Silas rubbed his temples and cursed. Olive moved in front of him, placed her finger under his chin then moved his face so that their eyes met.
"Silas, buck up!"
He looked toward the police officer talking on his radio. Olive squeezed his face and grit her teeth.
"When we get to Zola's we'll take this edge off in all the ways we like but for now, man up. You've never had a speeding ticket. It's not like he's running my license. We've only been on the road eight hours. He can't possibly know what happened to us back home.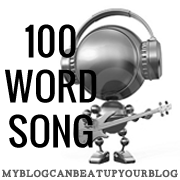 As always, you have 7 days from RIGHT NOW to write 100 words inspired by The National's Graceless. Use Leeroy's pal, Mr. Linky, below, then social media out your response to as many people as possible. If I don't comment yours, hit me up at @lanceburson on the Twitter or Lance Burson on the Book of all the Faces and let me know and I'll stop by. Sometimes Leeroy does the paperback and doesn't tell me. GO.