One of the best parts of hosting 100 word song is the fellow music fanatics you meet. Jen aka @jenkehl aka www.jenkehl.com has her own meme – Twisted Mixtape Tuesday. This week's theme is "addicted to". My short story I serialize for 100 word song fits that because Silas and Olive are addicted to each other. Go see Jen. Her blog is terrific as is the website I tri-host with her and Linda aka @modmomelleroy aka www.elleroywashere.com. It's called Raised On The Radio www.raisedontheradio.com and features wonderful columns and insight on music past and present. Leeroy and I asked Jen to pick this week's song and she went with Crowded House's 1991 love song Fall At Your Feet. Here's my 100, I pushed the story ahead a scene or so.
Last time: http://lancemyblogcanbeatupyourblog.wordpress.com/2013/12/09/rain-2/
Silas drove by a tall blue and white billboard advertising Finn Brothers Auto Service. Cars occupied all four bays but a white-lettered sign above the front door showed "closed". A peculiar fear came over him. He pulled the car into a parking lot. Olive stopped tapping her toes on the dashboard to the pop song on the radio and said.
"What Silas? Bart  said that's the place."
Silas grabbed Olive's feet and pivoted her so that they nestled on his lap. Tears formed in his eyes.
"I just need one more minute with you in case this drug delivery goes bad."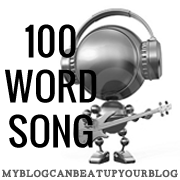 As always, you have 7 days from now to write 100 words inspired by Crowded House's Fall At Your Feet. Use your medias that are social to tell a friend or 50 then link up to Mr. Linky's green button below. Thank you.