Since we're a little late and the song's so good today, let's get right to 100 word song. My great friend and sometimes writing life partner, Tar Rah aka @Tara_R from the brilliant www.thinspiralnotebook.com has been with 100 word song from the start. She's even filled in for me and Leeroy when we had things and couldn't post for the week. She chose The Black Keys' Lonely Boy for the tune this time. It's so open, y'all should do great things with it. Go see her and thank her.
For my 100, we go back to Silas and Olive as they get deeper into trouble on the run in 1989 Florida.
Last time: http://lancemyblogcanbeatupyourblog.wordpress.com/2014/03/02/ways-to-be-wicked/
Silas turned off the shower, opened the door and looked around the bathroom for a towel. He heard Olive laughing in the next room and Bart talking into a cordless phone while pacing the hall. Realizing he had nothing to cover him and everything wide open, he backed into the shower, closed its door, pushed his head against the cold dingy white tile and shouted.
"Liv, bring me a towel!"
Several seconds went until he was startled by black cloth slapping him in the face. Bart's voice compounded the surprise.
"Get dressed, rook. We're making a night run into Sarasota."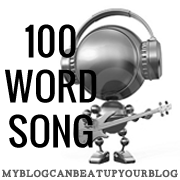 As always you have 7 days from NOW to write 100 words inspired by The Black Keys' Lonely Boy. Use the medias that are social to get your 100 word song magic out to the unwashed masses. Make sure to link up with the green Mr. Linky button at the bottom. Thanks for playing.
I wrote two books. They got good reviews. The third one, a sequel to the first, Woman Of Troy, is on the way, next month.
The Ballad of Helene Troy, an underdog story about a female musician in New York City, and Soul To Body, about an ex-1990s guitar player trying to raise his teenage daughter after the death of his wife, her mother, are available, digitally, on Amazon.com for your kindles, and in paperback from Lulu.com